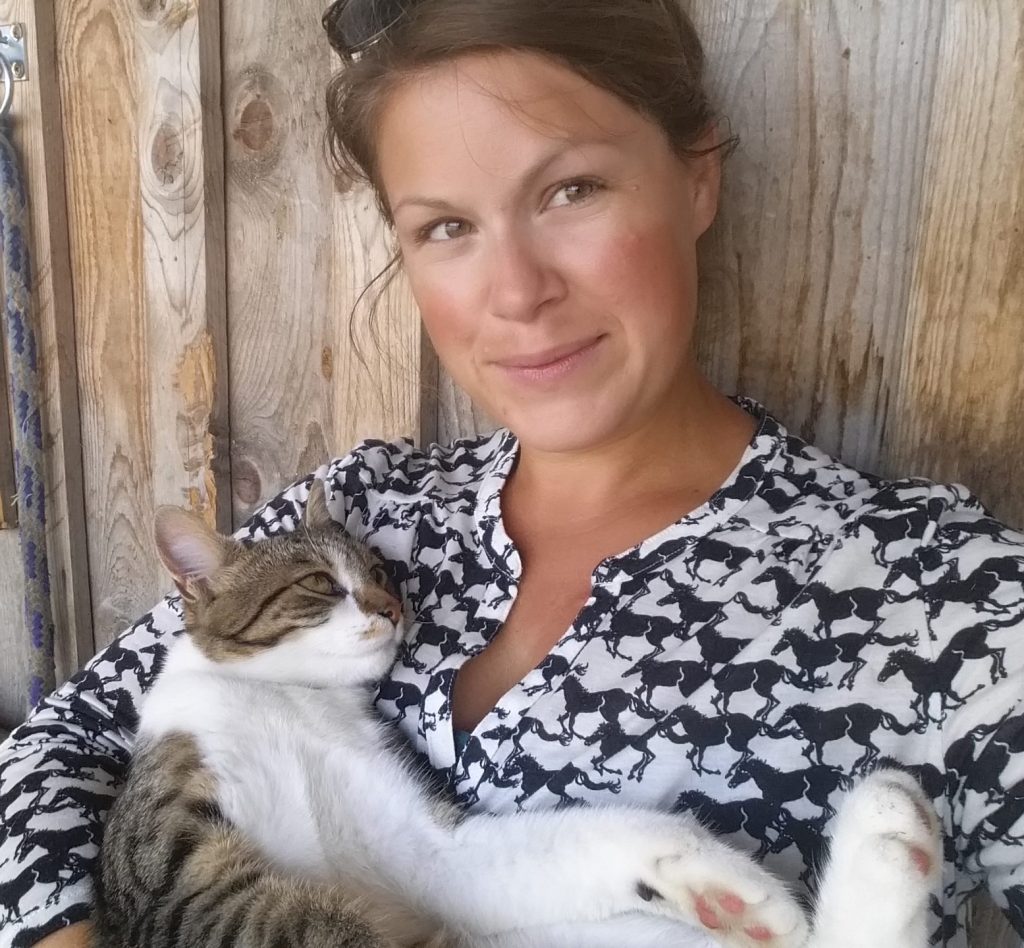 My name is Dr. Iris Starnberger. I am a zoologist, certified animal trainer, passionate horse "owner", scientist und bee-keeper.
In my studies, I've immersed myself with behavioural biology, signal evolution and communication in the animal kingdom. Additionally, I dove deep into the psychology of learning as well as applied behaviour change.
My passion and my vision is to highlight alternative and science-based methods of animal training – which to date are still not known or applied widely enough.
The term "Zuckerbrot" directly translates to "sugar bread" and refers to the German version of the proverb "with carrots and sticks", which would translate to "teaching someone with sugar bread and whip". To me Zuckerbrot represents all animal friendly, efficient and effective science-based methods of animal training and behaviour modification – and usually there is no need for sticks or whips.
The way I train is based upon the animal's voluntary participation, on fun, joy and mutual trust. Like this, the animal-human relationship blossoms almost by itself and a true friendship is cemented.
To achieve this, we don't need any of the outdated dominance concepts. If you look at the matter with your "science hat" on, things become very clear: To change our animal's behaviour, first and foremost we need to change our own behaviour!
By the way, following a science-based approach does by no means exclude your feeling and intuition.
Whether you are interested in activities to keep your animal mentally engaged, in gymnastic excercises or in effective interventions for a so-called problem behaviour – I'm here for you!
Best regards,
Iris Starnberger, PhD


abstand
Qualifications and Continuing Education 
2023
2022
2021
2020
2019
2018
Fortbildung: "The fundamentals – handling emotional states in animals" von Dr. Karolina Westlund-Friman 
Zootiertrainingstag im Zoo Linz mit Mag. Bettina Falzeder
Intensiv-Tiertrainingswoche 1 am AnimalTrainingCenter

Tiertraining mittels positiver Bestärkung von Haus- u. Hoftieren sowie Exoten im Ausmaß von 35h

6-wöchige Fortbildung: Resolving Fear Issues in Horses: An Online Course for Equine Professionals (IAABC)
ClickerCon 2018 – deutschsprachige Konferenz für modernes Tiertraining 
2-tägige Fortbildung mit Lucie Klaassen: 

Body Awareness for Horses and Riders
Balanced Rider and Horse

Fortbildung: Equine Psychology von Alizé Veillard-Muckensturm (Centre of Excellence)
Vortrag von Lara-Maria Nestyak, BA "Equipment – Blickschulung für professionelle TiertrainerInnen"
2-tägige Fortbildung mit Angelica Hesselius – Connection & Collection with positive Reinforcement
Vortrag von Dr. Susan Friedman: "Control: the other primary Reinforcer" am AnimalTrainingCenter
2-tägige Fortbildung mit Mary Concannon – Clicker Training for your Horse
3-tägige Fortbildung mit Lucie Klaassen: 

Body Awareness for Horses
Balanced Rider and Horse

2-tägiges Seminar hors:e:motion 
2017
2016
2015
2014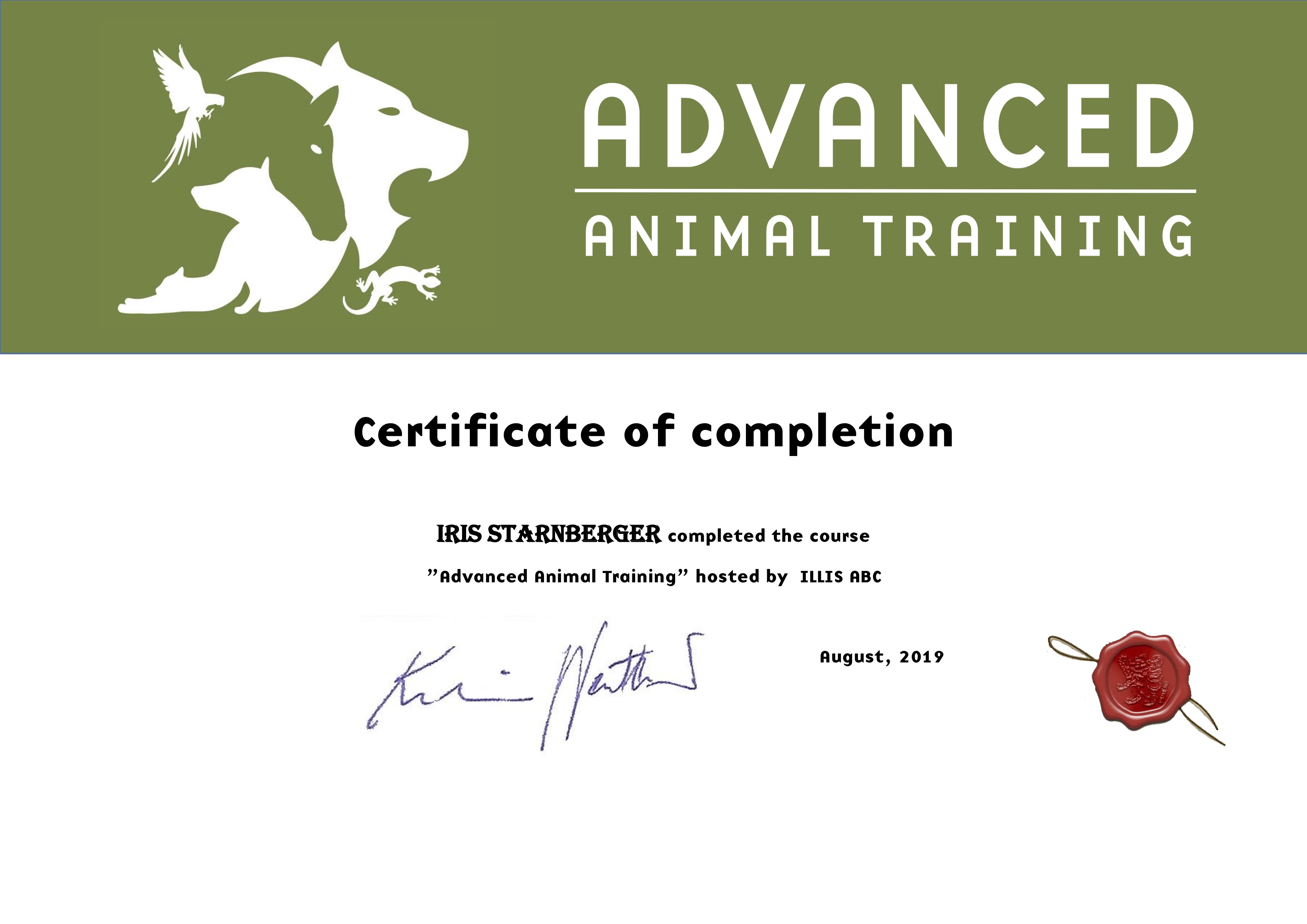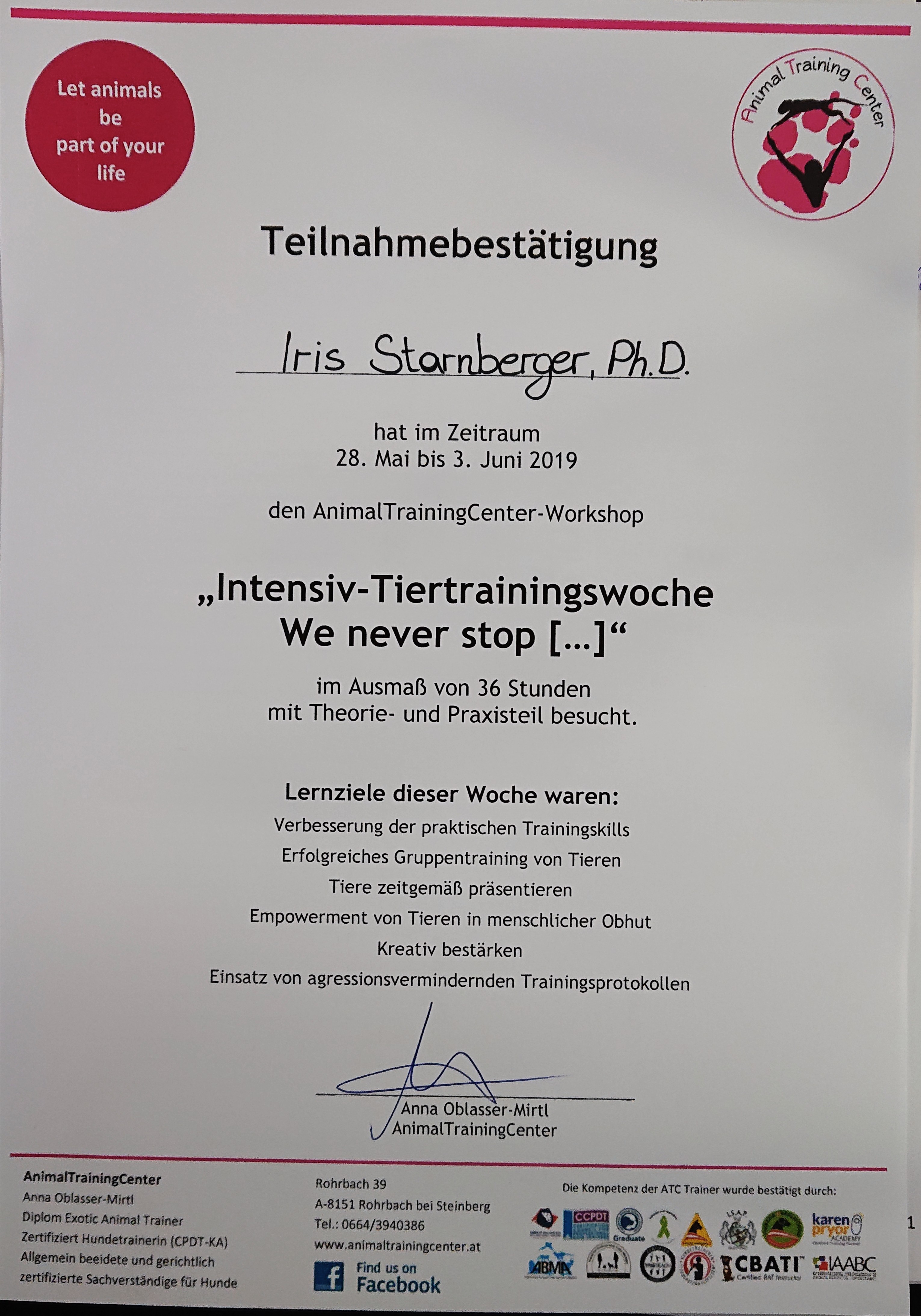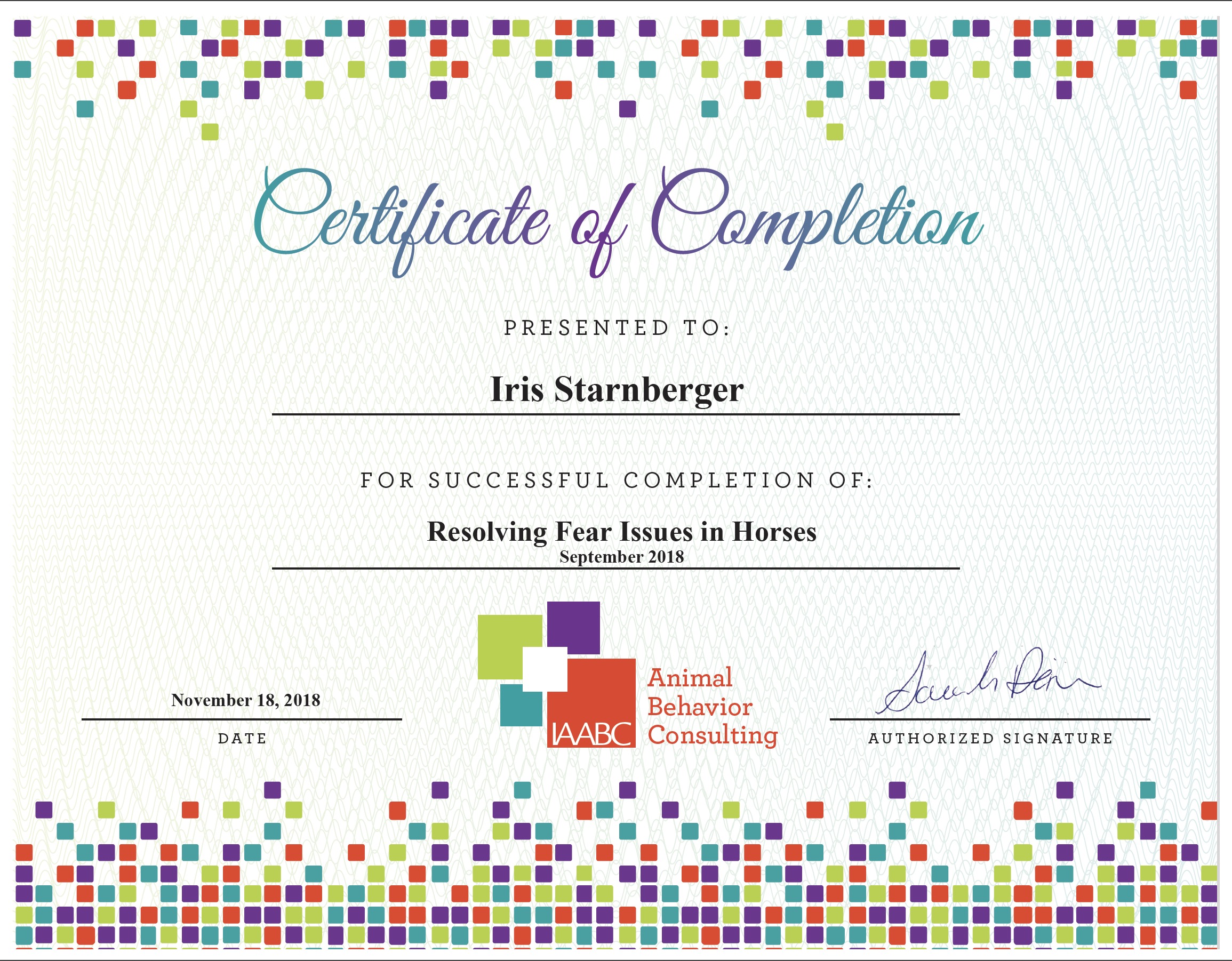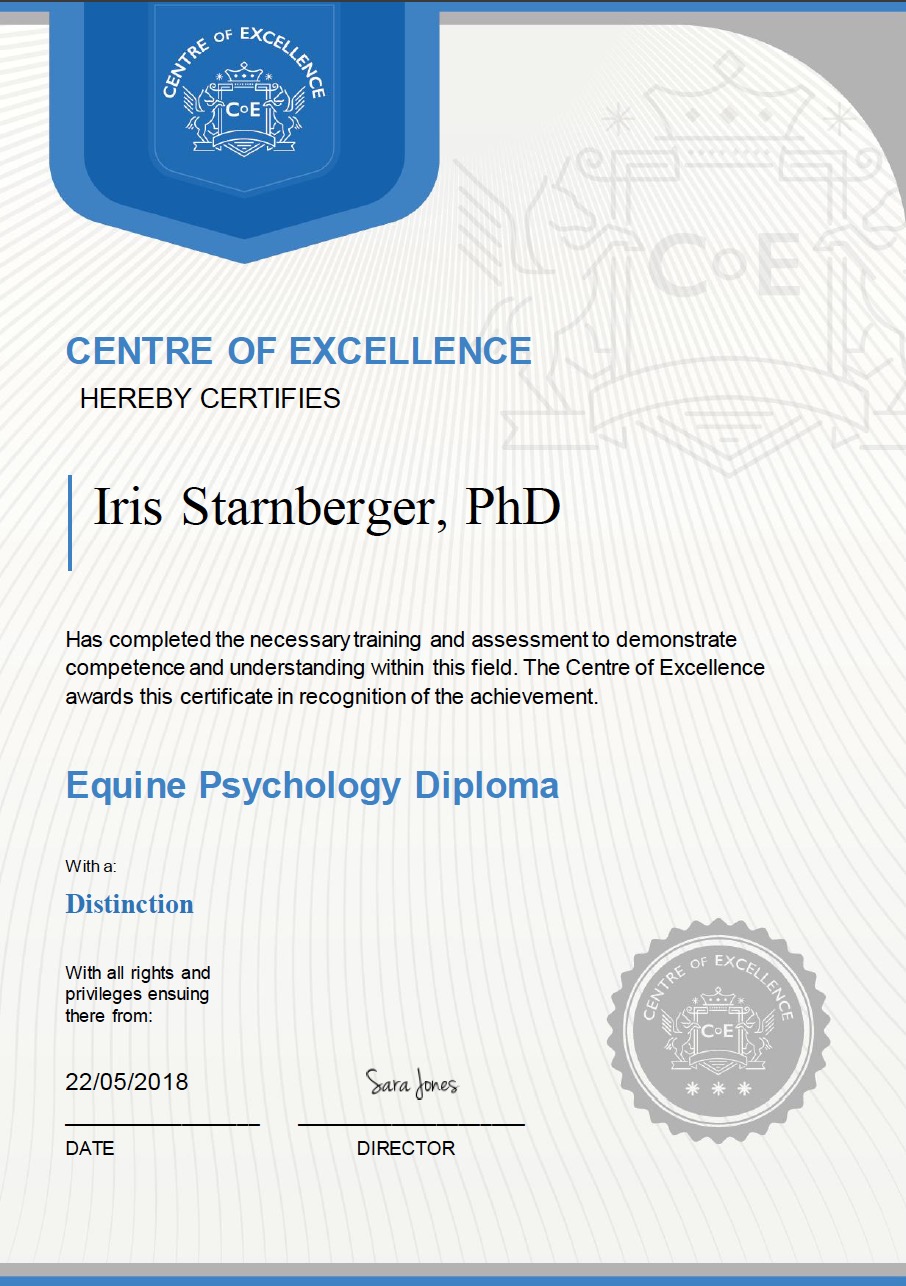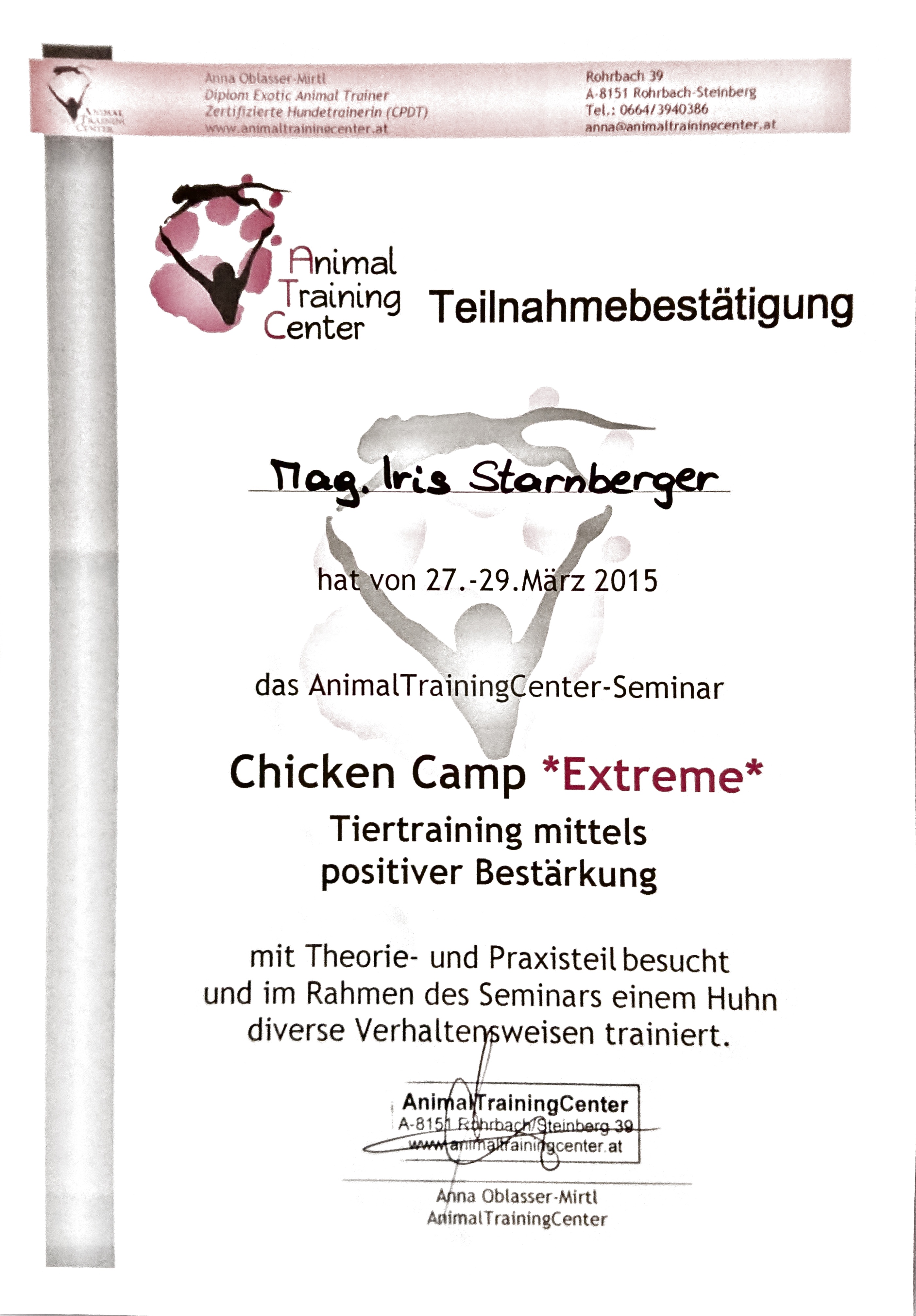 CertificateofcompletionIrisS
IAABC – Certificate of Completion
Bildschirmfoto 2018-11-15 um 12.14.38
Bildschirmfoto 2018-11-15 um 12.13.41
Bildschirmfoto 2018-11-15 um 12.13.19