New German Online-Course
Dir ist der Clicker ein Begriff, aber du bist nicht sicher, ob und wie du ihn im alltäglichen Training einsetzen kannst?

- Ist es überhaupt eine gute Idee auch das Fluchttier Pferd zu clickern?
- Was kann man tun, wenn das eigene Pferd durch Futterlob zum "Keksmonster" mutiert?
- Welche Besonderheiten sind beim Clickertraining mit Pferden zu beachten und vor welchen Entscheidungen steht man eventuell?
- Ist gymnastizierende Bodenarbeit, Longieren oder Reiten über positive Verstärkung überhaupt möglich?
- Welche Übungen eignen sich, um den Einstieg ins Clickertraining für Pferd und Mensch harmonisch und entspannt zu gestalten?
- Und wie kann man ganz konkret damit beginnen?
In diesem kurzweiligen Online-Seminar beleuchte ich diese Themen sehr ehrlich, gebe viele Tipps und stelle ganz konkrete Übungen vor, mit denen dir der Neu - oder Wiedereinstieg sicher gelingt und die Pferd und Mensch Freude machen.  
Du bekommst:

Über 5 Stunden Videomaterial in leicht verdaulichen Häppchen präsentiert.
Alle Erklärungen auch als Audio-Files zum Herunterladen und immer wieder hören.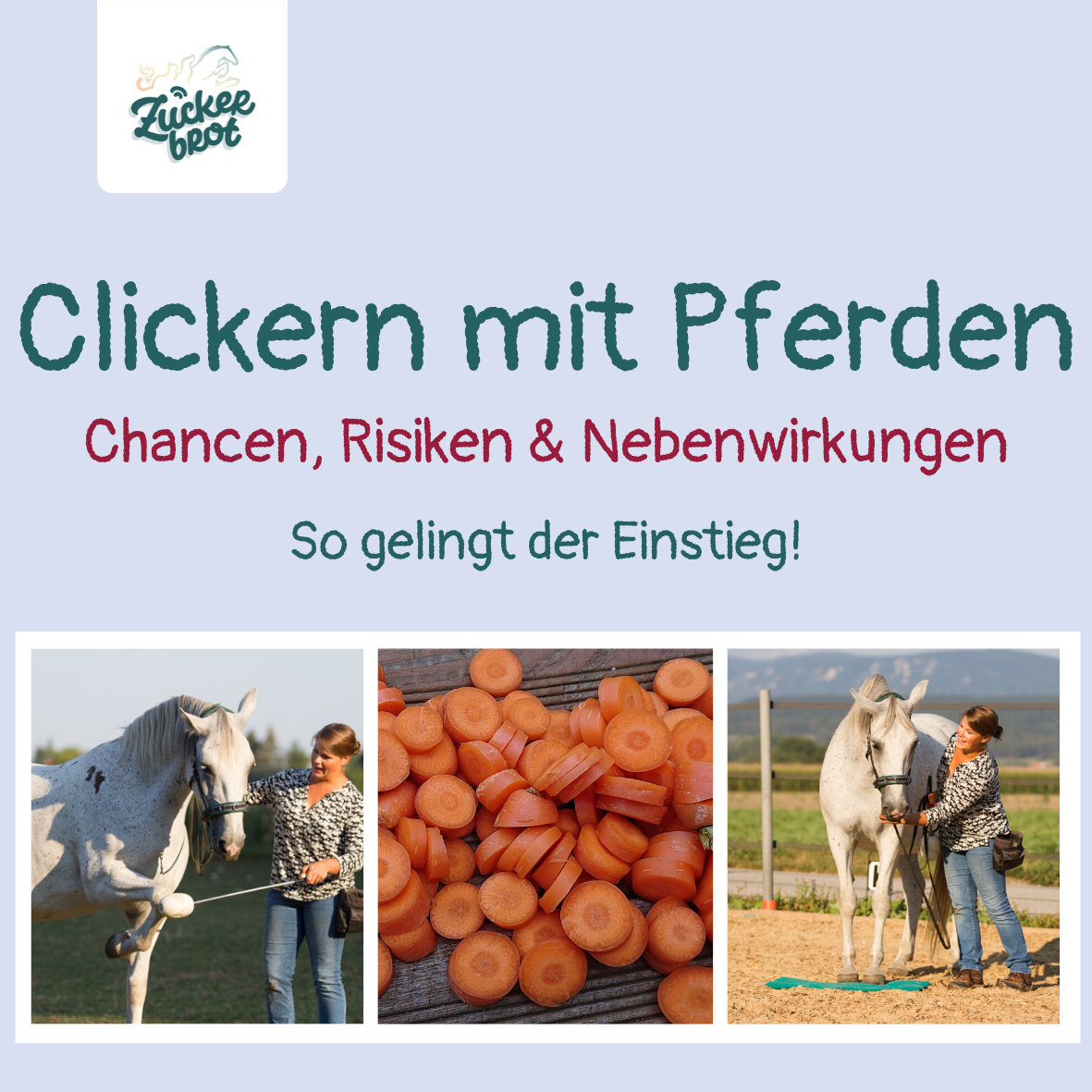 Interview on Medical Training
Wiebke Wagner has invited me to her German Podcast Pferdegewieher
I was happy to answer the following questions and more:
❓What is medical training and why is this topic so close to my heart?
❓Is there a difference between medical training and "normal" horse training and how does it work? 
❓Is this way of training easy?
❓Can anyone do medical training with a traumatised horse?
❓Is medical training any good if in the end it's another person (e.g. vet, hoof care provider) doing the treatment? 
❓What is an optimistic horse?
❓What can you do to facilitate a more invasive kind of treatment?
I really enjoyed being able to talk about one of my most favourite topics so freely.
Maybe you'd like to listen in?
Best wishes, Iris
People often ask me about the "perfect" treat pouch
The silicone pouch by "The Trainer's Pouch" is my new favourites
It has been developed by animal trainers and it…
⭐️…is made from high quality BPA Free & Non-Toxic Silicone making it very safe for all animals.
⭐️… is flexible making reinforcement quick and cleaning easy.
⭐️… is non-porous and does NOT absorb odours or promote mould growth.
⭐️…is suitable for all wet & dry animal treat types including raw meats & fish.
⭐️…is very Durable, Practical & has a Professional finish so suitable for all animal industries.
⭐️… comes with a high quality easily adjustable belt, but also fits on other belts.
⭐️… is waterproof & dishwasher safe (top shelf) making cleaning a breeze.
The larger size "Original" (ca. 15cm W x 12cm H x 7cm D) holds up to 4 tennis balls and is available in blue, purple, black and pink.
The smaller "Pocket Pouch" (ca. 13cm W x 8cm H x 6cm D) holds ca. 2 tennis balls and is available in aqua, periwinkle, marble, black and pastel pink.
I always have a small assortment of pouches with me. If you've fallen in love with a particular colour, please send me an email in advance to make sure I have it with me.
Trailer Training in Austria

Gemeinsam mit Claudia Wobornik (www.pferde-transport.at) biete ich ab sofort Verladetraining mit Click bei euch zuhause an.
Claudia bringt bei Bedarf Hänger, Zugfahrzeug und ihr Wissen rund um Transportsicherheit mit.
Ich zeige Eurem Pferd, dass der Hänger ein Ort ist, an dem man entspannen kann und dass Einsteigen Spaß macht.
Meldet euch gerne um einen maßgeschneiderten Workshop mit uns zu organisieren!